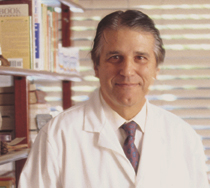 Michael Tierra, L.Ac., O.M.D.
Chief Formulator

Planetary Herbals' primary formulator is renowned herbalist and clinician Michael Tierra. Michael was one of the first acupuncturists to obtain a license to practice in the state of California. He received his training both in the United States and in Kunming, China. After licensing, he went on to obtain the most advanced credentials available in acupuncture--Oriental Medical Doctor (O.M.D.)--from San Francisco College of Acupuncture. He is equally skilled in Western and Ayurvedic herbalism, and his clinical practice and teaching reflect this eclectic background.

Michael is one of a handful of pioneers responsible for the rebirth of American herbalism. In the early seventies, Michael reintroduced a then-obscure Native American herb called echinacea to modern consumers. After traveling to India, he brought the legendary 2,000-year-old Ayurvedic cleanser, Triphala, to the American health food industry. He also brought back the seeds of the potent Ayurvedic tonifier, ashwagandha (Withania somnifera). These seeds led to widespread cultivation of this botanical in the United States.

Michael's best-selling herb book, The Way of Herbs, published by Pocket Books, has gone through several printings and was one of the only books in decades written by a practicing clinical herbalist. It has remained one of the most influential and popular herb books to date. Michael has since authored several additional herb books. These include The Way of Chinese Herbs and The Natural Remedy Bible, co-authored with famed naturopathic physician Dr. John Lust, N.D. and published by Pocket Books; a comprehensive two-volume treatise, Chinese Traditional Herbal Medicine, co-authored with his wife, Lesley Tierra, L.Ac., and published by Lotus Press; and his groundbreaking treatise, Planetary Herbology, also published by Lotus Press. Planetary Herbology is truly a landmark in American herbalism, as it was the first work dedicated to understanding Western herbs according to the time-honored principles of traditional Chinese and Ayurvedic herbalism. To many, this represented a milestone in the evolution of herbalism in America, and it is only one example of how Michael Tierra has contributed to the herbal renaissance we are experiencing today.

Michael is the founder of the East-West School of Herbology, one of the most highly regarded residency and distant-learning herbal programs in the United States. Michael is recognized internationally as an authority on the world's herbal traditions.